Our Technicians Take Your Safety and That of Our Team Members in Lafayette as a Primary Concern After Flooding
3/25/2019 (Permalink)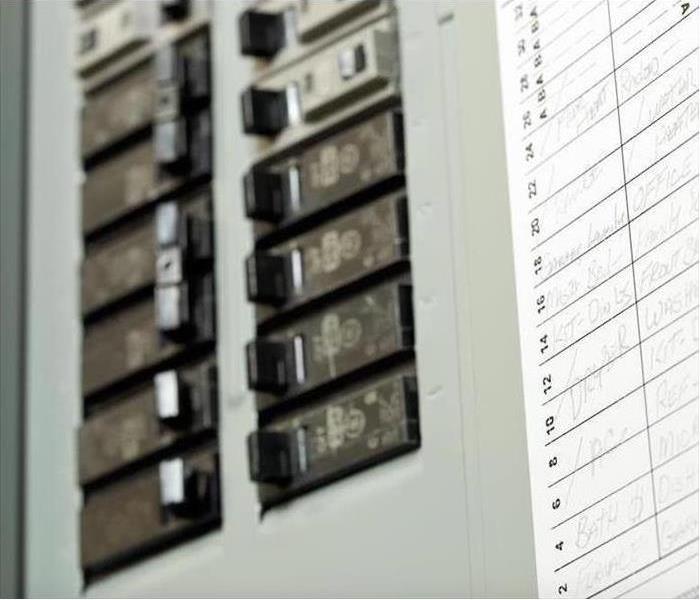 Your home's electrical panel needs to be checked thoroughly after storm damage. Contact our IICRC certified team to handle remediation in your home.
Making Your Home Safe after Flood Damage in Lafayette
When an area-wide disaster affects your Lafayette home, things can become difficult for you and your family. Some disasters can make your home unsafe with new hazards and risks to health. SERVPRO is always ready to help you undo the damage by restoring your home to preloss condition, "Like it never even happened."
After a home sustains even minimal flood damage in Lafayette, the microbial population can skyrocket, and other types of harm can also occur. Swelling wallboard materials, ruined carpets, and odors can leave your home an ugly mess that also makes it unsafe to continue living there. SERVPRO teams work as quickly as we can to reduce the time needed before your family can come back home.
We remove the water left behind, both standing water and moisture that seeped into the floors and other components of your property. Many items do require removal and replacement, but we do our best to keep this to a minimum, saving you money and time. Each item that we dispose of, we list on an inventory sheet, which helps speed up the claims process with your insurance agent. Your family's recovery after a disaster is crucial to us, and we do everything we can to help ensure your success.
As our equipment dries out your home, we work at sanitizing anything that came into contact with the floodwater. Flooding brings both microbial and chemical hazards, and we eliminate these for you. We use specialized tools that make it possible for our specialists to work rapidly and get the job done fast.
Because of the water that infiltrates the interior of walls, we work with certified electricians who can check the electrical systems in your house. Making sure that your home's power system works correctly prevents shocks and fires in the future.
As soon as your home's interior becomes dry again, we can bring the new building materials inside to start the restoration segment of your home's flood damage restoration. Damp homes can let microbes spread and grow, even on new materials and ruin them. We want your family to enjoy a completely fresh start, free of hazards and risks.
After flood damage or other types of damage to your home in Abbeville, Eunice, or Church Point, call SERVPRO of Lafayette's 24-hour services line at (337) 269-6332. Our IICRC-certified teams are always ready to help make things livable again.
Click here to learn more about the city of Lafayette.