We Work Fast To Restore Your Lafayette Cafe After A Flood
4/16/2019 (Permalink)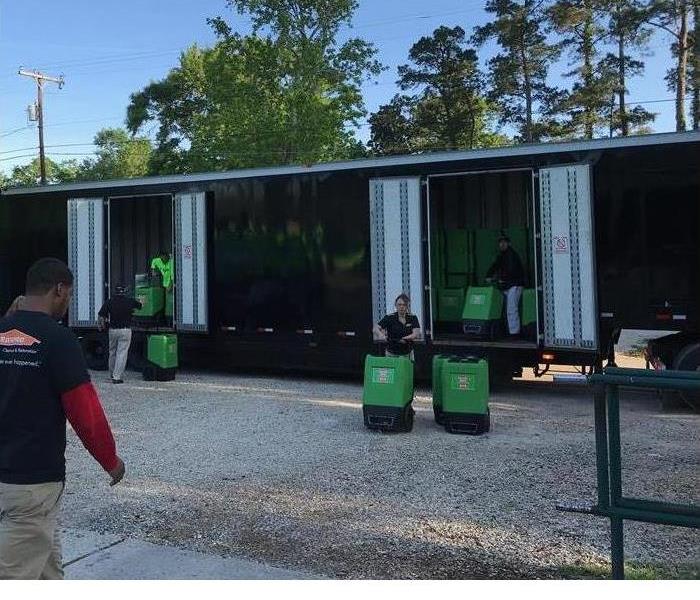 We have the equipment for any type of emergency and are available anytime 24 hours a day 7 days a week.
Commercial Flood Damage Restoration in Your Lafayette Cafe
Spring rains can bring flooding to your Lafayette café. What was just your dry, safe business a moment ago, can be suddenly under a couple of inches of water. No matter what area your business is in, you are susceptible to the possibility of flooding, so being prepared beforehand is essential for the operation of your business.
When flood damage has entered your building in Lafayette, you want the immediate help of a professional remediation company such as SERVPRO to help you with the damage. We have all the necessary tools and the experience we need to get your business back to the way it was, and we are faster to any size disaster.
If your business is in a flood zone, you may be able to sign up to get flood warnings. It is a free, 24-hour automated service that the Environmental Agency provides. It calls you to warn of likely flooding so you can prepare as much as possible. You should also have a flood plan that includes turning off gas and electricity supplies and moving any valuable portable equipment that is possible to a higher ground level.
With a small flood, SERVPRO staff can arrive at your business early in the morning and take care of the mess for you. Any chairs, tables or other furniture is moved out of the affected area so we can effectively work to get your café clean again. Squeegees, mops, and bucket help us take care of all the standing water, and then we can use axial fans, dehumidifiers, and air movers to finish the drying process quickly. We work quickly yet efficiently to clean up the flood damage so you can reopen for that evening's music and coffee.
In case of flooding, you should also make sure that each member of your staff is aware and trained in the right safety procedures during a flood. It means they can act efficiently and quickly to help protect your business. Add your flood plan the employee handbook as well, so everyone has a copy.
SERVPRO of Lafayette understands that any size flood in your business in Franklin, Duson, or Jeanerette can spell a terrible day for you. We want to help you get back up and running, so call us right away at (337) 269-6332 when you have a problem.
Click here, to find out how to get your fishing and hunting licenses.