We Act Fast To Prevent More Problems In Lafayette After A Water Damage Disaster
8/29/2019 (Permalink)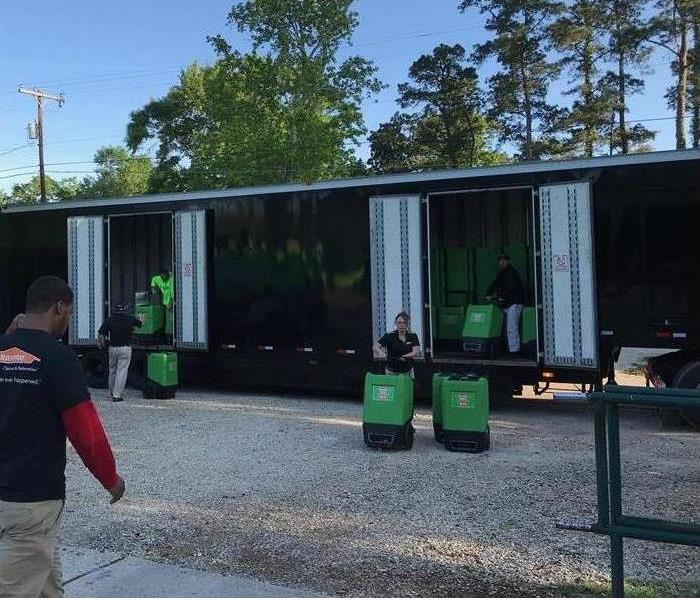 Our professional restoration equipment is ready for any type of emegency. We are available to help you 24/7 so all us right away.
Dealing with Stubborn Issues during Water Removal in Your Lafayette Home
Water spills easily from burst pipes, failed appliances, or other incidences. However, the removal process is rarely easy, requiring skills, equipment, and others to accomplish the desired goal. Some situations such as leaks in concealed spaces such as wall cavities or subfloors are harder than usual to address. We offer professional water removal that helps homeowners in Lafayette have peace of mind after such incidents.
Reaching Water inside the Walls
Walls can present a significant challenge to the water removal process in Lafayette homes. Water can find a way into wall cavities in many ways. If a supply pipe in the cavity leaks, the spill is likely to remain confined in the walls. Even water spilled in other areas of the house can filter into the walls, primarily through small openings. Our SERVPRO technicians evaluate the situation to determine the best course of action. We can remove the baseboards and punch small holes in wallboards to release water. Such actions work best for un-insulated walls.
Removing Water from Wet Building Materials
Sometimes removing water damage from wall cavities requires a bit of demolition. If the water affects fibrous insulation within the walls, it is essential to remove the wet insulation when extracting the water to ensure no excess moisture remains in the wall space. Our SERVPRO technicians prop open undamaged panels for better access for the wall interiors. We then remove the wet insulation, extract water, and reinstall the panels after drying the area thoroughly.
Removing Water from Subfloors
Water that wicks into floor materials and subfloors can be challenging to deal with. Layers of plywood or OSB subfloors absorb water, which can lead to problems such as swelling. Removing any floor coverings helps ease the process of water removal by eliminating any barriers. However, it might still take many weeks to dry the material properly. Our SERVPRO technicians use LGR dehumidifiers and high-speed air movers to quicken the process.
Water removal helps prevent other severe problems that might occur when there is a spill in your Abbeville, Crowley, or Saint Martinville property. Call SERVPRO of Lafayette at (337) 269-6332 to assist. We're Faster To Any Size Disaster.
See more about Lafayette.