About SERVPRO of Lafayette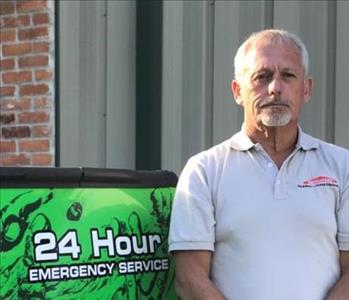 Joe & Marietta Scott
Owners of SERVPRO of Lafayette
SERVPRO of Lafayette is the standard provider for home restoration works in this part of Louisiana. Our team brings together thirty years' worth of experience in getting your property and possessions back to pre-loss conditions. Joe and Marietta Scott have owned and operated this company in Louisiana for fifteen years, through hurricane Katrina, Harvey, and numerous floods. As a result, our emergency response units are second to none with the experience to give you exceptional, efficient services.
This corner of America has been ravaged over the years by natural weather events but has always shown the resilience to come together and put things right. Our firefighters, police and other first responders are crucial in this regard which is why we sponsor the First Responder Bowl that takes place in Fair Park every year to show our gratitude. We are also a member of the Blue Goose Association which distributes our charitable giving and volunteer work hours to those who need it most.
A family-run company like ours should promote from within. Our crew chiefs are provided with the tools and training to make life-long careers rebuilding this community. We give them the opportunity to complete IICRC qualifications in Fire, Water, Mold, Storm, Flood and Biohazard restoration. Growing our skillset helps us deliver a better service to you on every job that we do; with no job site too big or too small.
If you run a commercial business in Lafayette, you can always reach out to us on our emergency line, operated 24-hours a day. We can assemble a team with the experience and skill set to tackle any job and send them to your location immediately on notification of loss. In the twenty years, we have enjoyed here in Louisiana, we have helped hundreds of commercial businesses overcome property damages with minimal loss of revenue.
We work hard to help you get back to your everyday lives as quickly as possible after home emergencies, contact us today to help restore your home.
Insurance and Payment Information
For a stress free claims process, SERVPRO works with your insurance to help manage the insurance process and paperwork.
We also accept the following credit cards for your convenience:



Certifications
AMRT - Applied Microbial Remediation Technician
ASD - Applied Structural Drying Technician
CCT - Carpet Cleaning Technician
ECTP - Employee Certification Training Program
FSRT - Fire & Smoke Damage Restoration Technician
IICRC Certified Firm
WRT - Water Damage Restoration Technician