We Have The Proper Resources To Handle Abbeville Water Removal
11/7/2019 (Permalink)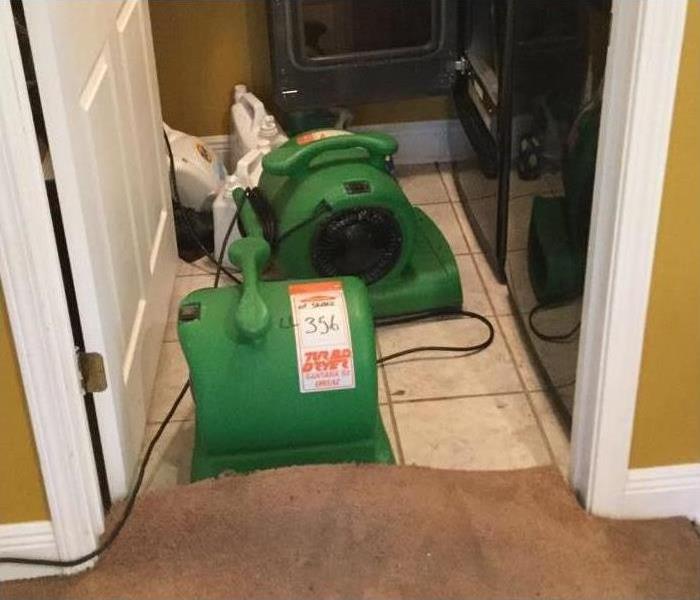 This carpet suffered from water damage after a washer leak. Our experts used air movers to dry under the effected areas.
Essential Considerations When Doing Water Removal From Affected Abbeville Homes
Water loss incidents can disorganize your life in many ways, including interfering with your daily routines and leaving piles of debris in your house. Your response to the outcome of such an incident should, therefore, achieve different goals, including restoring order. Considering specific issues when finding a water removal solution can help you achieve the intended goal.
The Speed of Water Removal
Executing fast water removal from your Abbeville property is not just a matter of convenience. When water is left to sit in a property for more than 24 hours, problems like mold can start developing. Materials also continue deteriorating the longer they remain wet. When choosing a solution to deal with the loss, it should address these concerns. Our SERVPRO crews can help expedite the extraction process by using high-speed pumps or truck-mounted water extractors.
Removal that Reaches Hidden Areas
In ideal situations, the spilled water does not breach the surface of materials. However, it is rare for a water loss situation to be ideal. The water soaks into materials or intrudes into concealed areas such as subfloors and wall cavities. Any removal effort should reach all areas, including the concealed ones. Our SERVPRO technicians can perform controlled demolition to open up walls, floors, ceiling, and any other concealed area affected by the flooding. We also have specialized water extraction equipment such and injecti-dry systems and drying mats.
Moisture Management
Even after removing all the standing water, the problems caused by water intrusion can still happen if moisture control is not well executed. For a positive outcome, it is essential to identify all wet areas within the property before starting the drying processes. Our SERVPRO technicians use various moisture detection equipment, including moisture meters, with probes to the level of wetness below the surface of a material to handle water removal. We also use thermal cameras that help identify moisture in concealed areas. After identifying moisture, we make calculations to determine the number and placement drying equipment, such as air movers and dehumidifiers, for optimum results.
When properly planned, water removal in Lafayette, Crowley, and Saint Martinville can achieve the desired goal. Call SERVPRO of Lafayette at (337) 269-6332. We have resources to deal with any loss, "Like it never even happened."
See more about Abbeville.